See More Photos In Our Gallery Above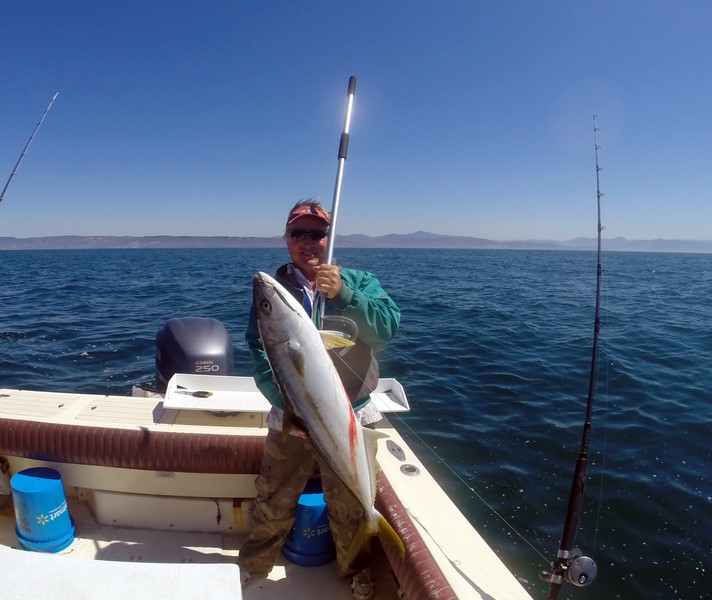 Although live bait is still not available for sale the yellowtail fishing continues to be pretty decent for the Ensenada area. Fish are being found most days in a wide area from off Salsipuedes to San Miguel Reef and from the north end of Todos Santos all the way back to Sauzal. Lately the bite has been better in the afternoon.
News Flash
Ensenada 3-9 and 3-11-14-Good Yellowtail Fishing in the Bay
Read full article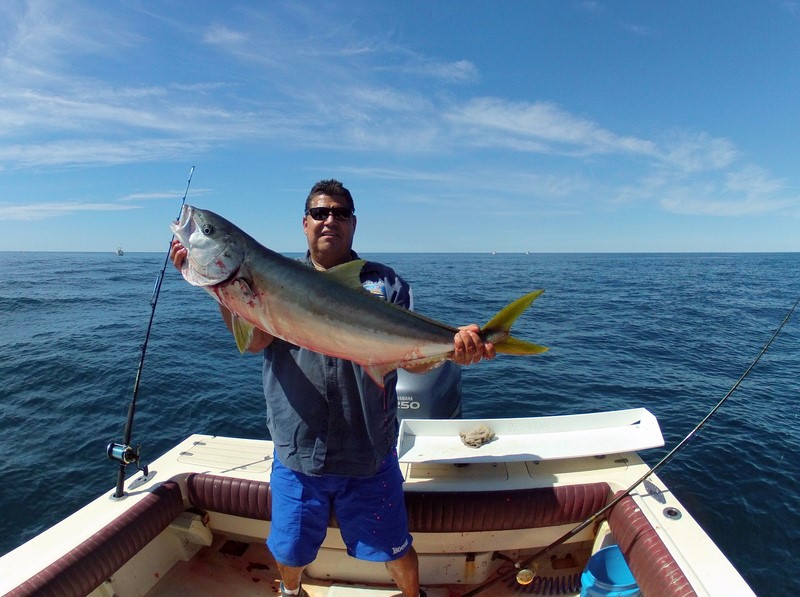 Yellowtail fishing went off Sunday afternoon for the crew of the It's 4 Reels in an area 2-3 miles north of San Miguel Reef. Tim McNulty and Joe Feeney were out on this trip. We ended our day with 9 yellows from 18 to 32 lbs. all caught on the iron and 8 of the 9 were caught after 2PM. Blue/white 6x jrs. fished through the water column caught the first few fish and then a light aluminum Candy Bar jig became the hot jig of the day accounting for the next 5 fish.
Ensenada 2-26-14 - Yellowtail bite takes off
Read full article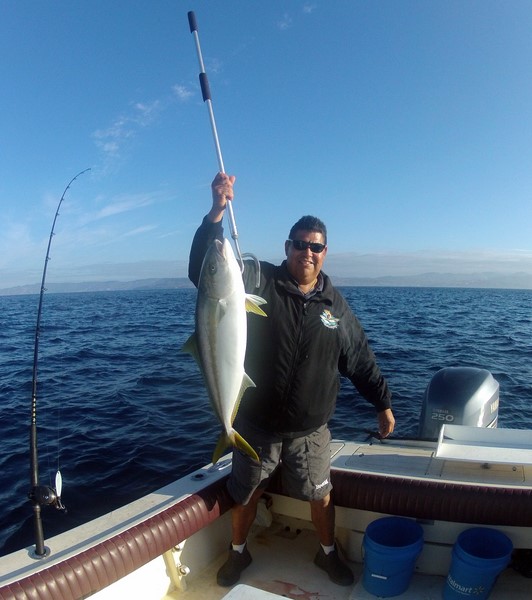 Ensenada yellowtail fishing took off this week as the fish bit from Monday on into Thursday with fish from 12 to 30 lbs. popping all over Bahia Todos Santos. Took Wednesday off from Tequilas Sports Bar to try and get a few for our restaurant. Along for the hunt was Angel Garcia and after stopping on a couple of meter marks and picking up some nice sand bass we moved to the middle of the bay and that is where the fun began. There were fish breaking all over the bay but they were moving fast and would only stay up for a minute or two so we stopped on the first good meter mark we saw and it was an instant hookup on the iron for me. It was short lived as it came unbuttoned and on the next drop the same thing happened.
Ensenada 2-14 & 2-15-14-Yellows at Todos Santos Island
Read full article
2-14-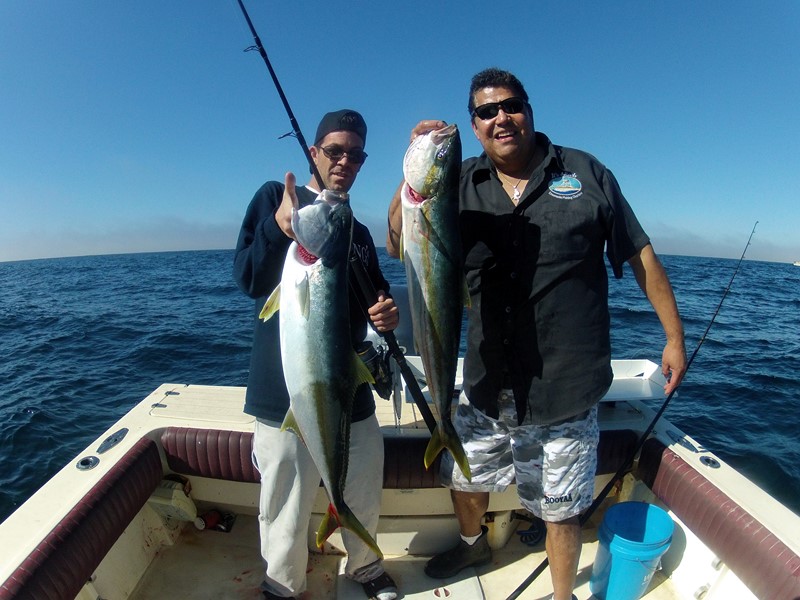 A Valentine's Day fishing trip for Mark and Rita saw us head to Todos Santos Island in search of some home guard yellowtail. A friend of mine reported catching 10 big yellows the day before in very nice conditions. We had high hopes that we would get into them also. And we did. We went 2-4 on the yellows using blue/chrome and scrambled egg Fire Iron 5 lures. We also caught a nice calico bass, 2 reds, 3 lingcod and an assortment of rock fish. Conditions were not that great with wind and fog appearing and disappearing a few times during the day. Rita also was able to catch her first salt water fish as well. Did not here of any other boats catching yellows this day.


Ensenada 2-12-14 - Great lingcod fishing
Read full article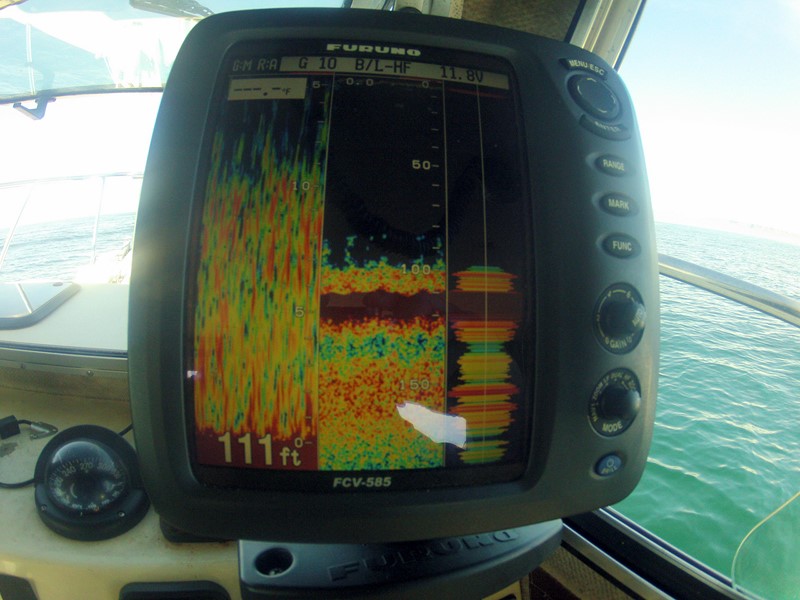 Another great day of fishing inside Bahia Todos Santos. Final catch was 15+ lingcod, and an assortment of reds, whitefish and misc. other rockfish. Lings ranged in size from 4-14 lbs. with most between 6-8 lbs. Lost a couple of toads at the boat. Those lings can really flare there gills and shake there heads violently when they get close to the boat.
Ensenada 1-28-14-First 2014 yellows and lingcod
Read full article
After 4 months in the shop the "It's 4 Reels" is back on the water and is now open for business. We had a new top end put in (pistons, rings, seals etc.), new bottom paint, and new gauges installed. My friend Cisco and I took her out on Wednesday 1-28-14 and the engine is running like new again. Now for the fishing-we hit the San Miguel Reef area (aka the bajo) and started out at 10AM. We stopped on a high spot just before arriving at the bajo and Cisco caught a nice chucklehead on a green and white fire iron. We drifted this spot for a few rockfish and whitefish. It felt great to back on the water!
First Pass
Read full article
Ensenada , B.C. - The Autonomous University of Baja California ( UABC) , held the 43rd edition of the bike ride " UABiCi " , in which over 300 people of all ages participated .
Nelly Calderon de la Barca and Arcelia Paz coordinating the event, said their expectations for the full year on the bike ride were to somehow influence the culture of the various means of transport in society.
Baja 1000 Results
Read full article
2012 TECATE SCORE BAJA 1000
45th ANNIVERSARY ENSENADA TO LA PAZ PENINSULA RUN
FOUR WHEEL VEHICLE OFFICIAL CLASS RESULTS
SCORE TROPHY TRUCK:
CLASS OVR VEH DRIVER OF RECORD TIME MPH
They plan 60 seats in the " oscurito "
Read full article
Ensenada , B. C. - Although most of the twentieth City official , Chief Fernando Rodriguez, said he did not have filed Basification in Ensenada union bureaucrats circulated a list of 28 employees who seek a place in the Municipal Government , and the paper notes that there are two at the discretion and 30 more that would be proposed by Mayor Enrique Pelayo Torres.
Chief Rodriguez was interviewed by The Watcher and said that until yesterday at noon or presented have not made basificaciones requests for staff, but said the financial and administrative situation being experienced by the municipal government would not grant a single base .
Considered that the rumors about the 60 seats are false , because to date , when almost to end his three years the mayor, has not started a single procedure .
Forth in the City Gallery "Catrinas and Catrines"
Read full article
Ensenada , B.C. - Sixteen dandies and catrinas sculptures are exhibited in the Gallery of the City, as a result of the call to students of the Faculty of Engineering, Architecture and Design , who presented their work to a jury was formed by Prof.. Lucy Moreno Corral ( artist ) , Prof.. Architect Claudia Rivera Torres ( FIAD coordinator of UABC ) and MSc. Jaime Campos Diaz (sculptor ) .
The exhibition " Tilica and skinny , walking living death " , will remain available until December 13 , where they can see and dandies catrinas representing artistic figures such as Pedro Infante , Frida Kahlo , María Félix , John Lennon , Cantinflas , Amy Winehouse , mostly with a Mexican flair .
Las Olas
Read full article
Ensenada, B.C. - A sculpture allegedly called "Las Olas" was installed yesterday afternoon on Coastal Boulevard extension by the Ministry of Infrastructure and Urban Development of the State. Due to the weight of the metal work, it required the use of a crane and the work of welders who worked for several hours in the area.
CBTIS celebrates its 40th anniversary
Read full article
Ensenada. B.C. - Bachelor of Technology Center Industrial and Service 41 is one of the best educational institutions in the country, has so advised the Mayor Enrique Pelayo Torres during their participation in the ceremony of 40th anniversary of CBTIS 41 .
The mayor noted that in 1973 the city of Ensenada was very different from how it is now , but the youth of this city have always been restless and eager to succeed , so that , with the start of activities CECYT 201, today CBTIS 41 was in response to the concern of tens of students who wanted to continue their studies.
Ensenada 9-10-13-Big yellowfin, dorado and yellows
Read full article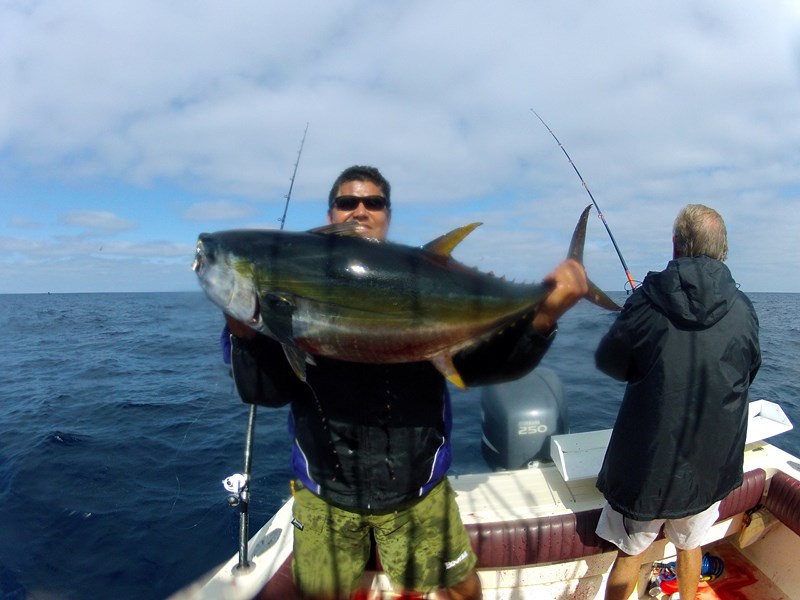 The plan was to first head out to the 450 while looking for paddies along the way. Our charter consisted of Ed and Greg and my deckhand was second captain Cesar. We put the trollers in at 31.32/117.02 and we got bit before I could put the 2nd troller out. A nice 30+lb. yellowfin hit the purple cedar plug fished long. Ensenada Bait had nice anchovies that we purchased and we chummed and hooked 2 bigger models on the flyline. Greg was fishing with a Revo Toro and I was fishing Accurate 270 using 25 lb. test and we were both in for a great fight.
Ensenada-8-16-13 to 9-9-13 2013 Ensenada Report
Read full article
Although I haven't reported in a while it hasn't been for lack fishing or lack of fish. Ensenada is alive and well. This is a two part report with the 9-10-13 report coming right after this one. August 17th found us on a friends boat at the marina and just relaxing. While sipping on "Lethal Weapon" martini's we hooked and landed a bonefish on cut squid:
4 Patas: A look into Mexican kitties and pooches in Ensenada.
Read full article
When people visit Mexico, there's usually an overall opinion of our stray animals walking around our streets. There's always an expression of awe in the way people find our dogs and cats wandering and hanging out at taco stands or other easy food access places.
Usually that's the first and last impression from your visit to Mexico. But what you don't know about Ensenada, is that we're actually getting ahead in what this topic concerns. In 2008, there was a nonprofit association created called 4 Patas (this means 4 Paws) which started as a sterilization, vaccine and adoption campaign but actually dedicate their work to improve the quality of life of cats and dogs in Ensenada's community.
Ensenada 8-15-13-More yellows and dorado
Read full article
We had a charter that consisted of Chris, Jared and Leon looking to hit some tuna on what turned out to be an awesome day on the water. We purchase
d a nice scoop of anchovies from Chilly Willy at the Marina Coral receiver and also made spanish macks in front of Punta Banda with the intent of fishing the 295 area.
Fiestas de la Vendimia (Wine Harvest Festival)
Read full article
Ever since wine production exploded in Valle de Guadalupe and the growth of some of the most important wine producers of our region, this area of Ensenada has been on the rise as one of the towns main tourist attracctions, from concerts to the various types of festivals held at this place.
And since Baja California´s quality wines have been renowned worldwide and exported to various countries, including those, which produce some of the greatest wine in the world, what better way to celebrate our wine tradition than with Las Fiestas de la Vendimia (The wine harvest festival) a festivity in which the wine producers and local consumers celebrate the start of a good harvest season.
2nd anniversary of the Indie Side Fair
Read full article
Saturday July 27th, 2013.
First of all, the Indie Side Fair was created for those new craftsmen and women in Ensenada to present their work to everyone that visits. It's free admission and you will not believe how the paradigm of Mexican arts and crafts has changed in the last couple of years.
Remember that we're trying to make you see beyond the main tourist drag and stop you from buying those annoying t-shirts that say – No more stinking tacos- with the picture of an overstressed pooping Chihuahua dog. So the Indie Side fair is the best way to check out the local Ensenada business that put their heart into both their work and forms of expression, not to mention update yourself on what the real Ensenada is working on and thinking about.
Ecotourism of Ensenada
Read full article
From the coast to the mountain range of our city, Ensenada has some great natural areas where you can enjoy a nice day out, whether it is to go get a souvenir or simply take a nice walk in the afternoon, this are some of the places that you must visit whenever you´re in town.
Ensenada July 2013-Pati & the kids, Offshore Yellows & a Big Lingcod
Read full article
Looks like the offshore conditions for the start of August will be the same as most of July, windy. But in between wind events the fishing has been pretty good for kelp paddy yellowtail, to go along with some bluefin and an occasional dorado. The It's 4 Reels family (wife Pati, Chuy and Jennifer) headed out yesterday to see if we could get in on some of the fun. After a late start we headed for the tuna pens that are a mere 27 miles from the Hotel Coral. Buoyweather.com had predicted calm seas and little wind and we also had the sun with us for most of the day. After running 20 miles at 30 mph. we found 3 paddies that were close together and I saw a breezing school of yellows that did not want to bite. We put the trollers out for the last 7 miles to the pens and did had no strikes and we did not see any more paddies. There were several pens within a couple of miles of each other and only a handful of boats fishing them. There was very little activity on the meter so after a couple of drifts and trolling around I decided to head back towards the 500 fathom line on a heading towards the Banda Bank.
mi nombre es Mariana
Read full article
BUENOS DIAS… y seré su guía de turista el día de hoy… Que?...no hablan español?...Hiiiíjole, yo no speak English… just kidding!! I speak English…I'm Mariana and I will be your tour guide for Ensenada-..See, this would be my opening line on every single on shore excursion for cruise ships in Ensenada. Pretty expected for a tour guide right? All that was missing was me in a big sombrero making praise to the fact that we have our own McDonald's to complete the stereotype. In Ensenada, when I was in tour guide boot camp, I said – I can do that, it's easy. But details mattered.
Upcoming Events
This year's race theme is "The Thrill of Victory," which has been pursued over the years by luminaries such as the late Roy E. Disney, actors Buddy Ebsen and Humphrey Bogart, broadcast news legend Walter Cronkite, comedienne Vicki Lawrence, movie producer Milton Bren, Pulitzer Prize-winning cartoonist Paul Conrad and world class sailors including Dennis Conner, Bill Ficker and Dave Ullman.
Rosarito Ensenada began in 1979. It is an award-winning 50 mile bicycle ride along the Pacific Coast and inland through rural countryside from Rosarito Beach to Ensenada, plus a Finish Line Fiesta on the Ensenada waterfront with food, drinks and live music until sunset.